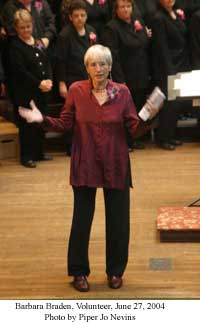 We at Voices Rising are pleased to introduce our Fermata section to kick off our tenth anniversary year. A fermata is a symbol used in music notation to sustain a note. Our Fermatas are the people who sustain us! Email us at leadership@voicesrising.org to join the Fermata section.
Who is a Fermata?
-A former singing member or singing member on leave
-A partner, relative, or friend of a singing member
who volunteers her or his time and resources to support our missions of community-building and musical excellence.
Reasons to be a Fermata:
-Someone you love is a Voices Rising singer
-You used to sing with us and want to stay connected
-You love our commitment to feminist and LGBT community
-You have time, space, and/or funds to make sure the VR community continues not only to exist, but to grow and thrive
What are some things a Fermata can do?
-Volunteer with ushering, box office, or merchandise on the day of a performance
-Help us get the word out about our performances and fundraisers
-Set up monthly giving to enable us to take our music on the road and reach the wide audience that our music merits!
What's in it for you?
-In-kind donations and monetary donations are tax deductible
-It's an amazing way to meet some really good friends who are working for a common purpose
If you like to shop online, you can donate to Voices Rising at the same time, by shopping at Amazon.com or iGive.com.

.


Shop online at over 700 brand name stores and a portion of each purchase will be donated to Voices Rising! Your stores, our cause! Click on the icon, or visit www.iGive.com, and identify "Voices Rising Boston" as "My Favorite Cause" under "Settings."