Artistic Director and Accompanist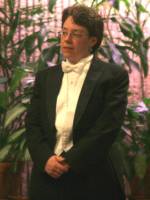 A native of Montreal, Canada, Leora Zimmer began her musical career at a very young age, singing, according to family lore, before she could speak. She began to play violin at the age of 6 and informally took up electric bass during those rebellious high school years. She graduated from McGill University in Montreal with a degree in Music Theory. In 1987 Leora moved to Connecticut to attend Yale University, where she both studied and taught music theory, earning two Master's degrees. She then began work as a computer music engraver. Leora joined Another Octave: CT Women's Chorus, and after a year of membership, she served as their Assistant Artistic Director. She also began to sing with, and assumed leadership of The Undertones, a women's a cappella quintet. In addition to conducting and singing, Leora has composed, arranged and co-produced three CDs for these two groups. After a brief return to Montreal, where she continued to freelance as music engraver, conductor and singer for various organizations, Leora returned to the United States in 2002 as Artistic Director of the Boston Women's Rainbow Chorus and Assistant Manager of The Foundry Music Company, Connecticut's largest print music retailer. In February 2004, she was invited to direct the talented and spirited women of Voices Rising in their inaugural season and looks forward to the music yet to come.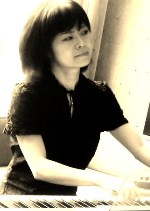 Soohee Moon is a versatile pianist with musical interests ranging from classical to rock and roll. Primarily, she is a jazz pianist and has performed with numerous bands and groups for several years in venues including the Berklee Performance Center, Mechanics Hall, Ryles, Johnny D's, and Acton Jazz Cafe.
She trained at Berklee College of Music majoring in performance after working at a music publishing company in Seoul, Korea. Soohee holds a degree in Music Composition from Ewha Woman's University in Seoul, Korea.
As a pianist, accompanist, Soohee has been involved with various music projects, such as accompanying singers/ instrumentalists, working with opera companies, and laying tracks at recording sessions. She offers private piano/music lessons at her home studio in Medford, Massachusetts.
Learn more about Soohee at her website.