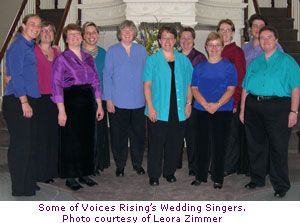 Voices Rising is pleased to offer music for your wedding ceremony. An ensemble of singers from our critically acclaimed chorus will perform selections to celebrate your joyous day.
Please contact us for more information at gigs@voicesrising.org. We will be happy to discuss how we can add a special touch to your wedding day.
"The one thing the guests all commented on was the beauty of the music. It made it an even more unforgettable occasion."
"the music gave me goosebumps... it was so lovely and it made the service -- my wedding -- very beautiful."