Bring Voices Rising home for only $20 + $3 s/h!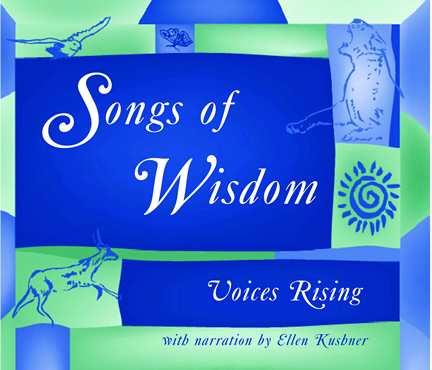 includes shipping and handling
Paying by check? Mail to: Voices Rising P.O. Box 300476 Jamaica Plain MA 02130
Song List:
Songs of Wisdom
1. Peace Is
by Fred Small, arr. J. David Moore;
2. Over the Rainbow
music by Harold Arlen, words by E.Y. Harburg, arr. Russ Robinson
3.

4.

6.

About the CD
In a time when violence, fear and intolerance pervade our daily existence, the music of Songs of Wisdom offers a refreshing message of optimism and hope. Its central piece, Joseph Martin's Song of Wisdom from "Old Turtle," is a musical setting of Douglas Wood's award-winning Old Turtle. The book was written for children, but its message knows no age. It spins the tale of a mythical time before humans walked the earth, when "all the beings of the world could speak and understand one another." The story, with its lessons in tolerance, diversity and environmental responsibility, has touched thousands of readers and listeners over the years. And the music vividly paints in sound the images described by the text, while creating a musical space that calls us to prayer. The surrounding songs on the CD are expressions of peace, community, spirituality and life's celebration. May Songs of Wisdom be a reminder of the beauty that surrounds us, of all the good we have already accomplished and of all that remains to be done.
About the Songs
Peace Is
Composer Fred Small, once full-time folk musician, now a Unitarian minister in Massachusetts, asserts his belief in the people's ability to choose and demand peace. The middle section of this arrangement features the articulation of a Morse code S-O-S plea underlying the call for peace in the upper voices.
Over the Rainbow
Perhaps one of the best-known songs among audiences young and old alike, Over the Rainbow reminds us all of the hope and optimism of youth. The colorful jazz harmonies of this a cappella arrangement set up a play of dissonance and consonance and highlight the song's poignant message.
Song of Wisdom from Old Turtle
Arranged for women's choir, narrator, piano, violin, percussion and didgeridoo, this work gave us the opportunity to collaborate with other artists and expand our community. We were privileged to work with talented instrumentalists from Boston and Philadelphia and honored to welcome NPR's Ellen Kushner as our narrator.
The end result is magical.
i thank You God
Our search for songs about hope and appreciation for all that life has to offer led us to Elliot Levine's a cappella setting of this famous e.e. cummings poem. Originally composed for Levine's Western Wind vocal sextet, this arrangement has been revoiced by Leora Zimmer with the generous permission of the composer and is performed by a small ensemble from Voices Rising.

Gather
Featured as a Mass Chorus work at the 2006 Sister Singers Festival in San Diego, Gather was written by Karen Mooney, a member of Artemis Singers, Chicago's Lesbian Feminist Chorus which recently celebrated its 25th anniversary. Recorded live at our Winter 2006-07 concert, this performance features another small group from the chorus.
Singabahambayo
In March 2004, when we were barely 4 weeks old, Voices Rising sang this song in our very first performance. The event was sponsored by the Religious Coalition for the Freedom to Marry in support of the passage of Equal Marriage in the Commonwealth of Massachusetts. The song has been part of our repertoire ever since. For the recording we invited all past and present Voices Rising singers to join us in the studio. Past members came from all over the country. We had founding members along with new singers who had joined the chorus only one week before the recording date. The message of solidarity, inclusivity and strength embodies our history and our vision for the future.